Open Network for Digital Commerce: Connectivity is the future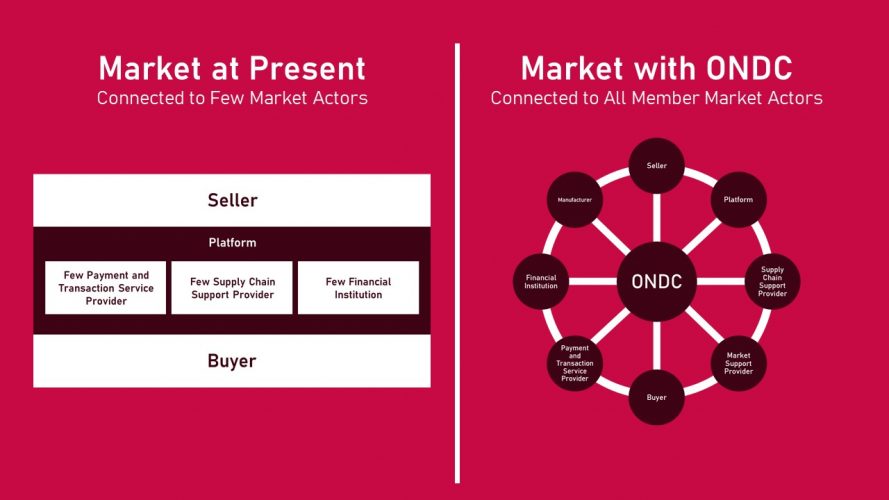 Open Network for Digital Commerce, generally known as ONDC, has been the talk of the town for quite some time in our neighboring country, India. Though the ONDC in India is still in its initial stage, it is the right time for us to start discussing and working on the building blocks of a similar design for the digital commerce ecosystem of Bangladesh.
In simple terms, ONDC is an open-source technology that will give digital commerce enterprises open access to all member online marketplaces, consumers and other relevant market facilitators and, thus, will create a ground for healthy competition among the organizations. Let us walk through the hypothetical case of Ms. Nondini's small e-commerce business to have a better grasp over the concept of ONDC.
Nondini has recently started a business in Khulna where she sells Nokshi Kanthas through AjkerDeal.com. One of Nondini's special products is the blanket with the design of a Royal Bengal Tiger in the center. She has particularly designed this to make her products stand out among the regular blankets.
Client Acquisition
Mrs. Chaya resides in Chattogram and is the mother of a 5-year-old kid whose favorite animal is the Royal Bengal Tiger. On her kid's birthday, she has been planning to buy a gift, which will have the national animal in its design. She would also like the gift to represent Bangladeshi culture but was unable to find something of her choice from the recommendations she was getting from the e-commerce site she uses, which is Pickaboo.
Now, there is a prospective demand for Nondini's products, but she is unaware of such prospective clients as her business is not present in the same marketplace as her client. There is a gap of information. Through ONDC, this gap will be diminished if both marketplace's sign-up for the network membership. In this way, Nondini will be able to market her product to these Chayas, and Chaya will be able to find a wide variety of products of her choice from multiple marketplaces, where none of the parties will have to shift to the other's marketplace.
Supplier Identification
Just as in the case of Nondini's customer acquisition, Nondini herself can be a prospective client of some fabric wholesalers who are again not in the same marketplace as she is. In the same way, ONDC can connect these two groups and help Nondini to source her fabrics from a different marketplace where she could also compare the pricing and the other specifications of the sellers.
Supply Chain Solution
Coming back to our connection between Chaya and Nondini, the entrepreneur will now have to find a supply chain solution provider who can deliver the parcel from her shop at Khulna to Chaya's residence. Here again, ONDC can offer solutions for her where she will be able to assess, compare and select a service provider which best matches her requirements, from a number of supply chain solutions that have signed up for the network.
Transaction Smoothness
Considering the distance between Nondini and Chaya, it is quite understandable that the payment for the product will be made by availing of digital transaction mode. Now, what if Nondini has nothing but an Upay account, and Chaya does not have an MFS account but has an online banking account? ONDC aims to solve this problem as well and facilitate the payment process by not forcing any of the parties to shift to another channel of payment.
Article Author
Ainan Tajrian
Research Associate
DataSense