Making E-commerce Grow: A Few Policy Options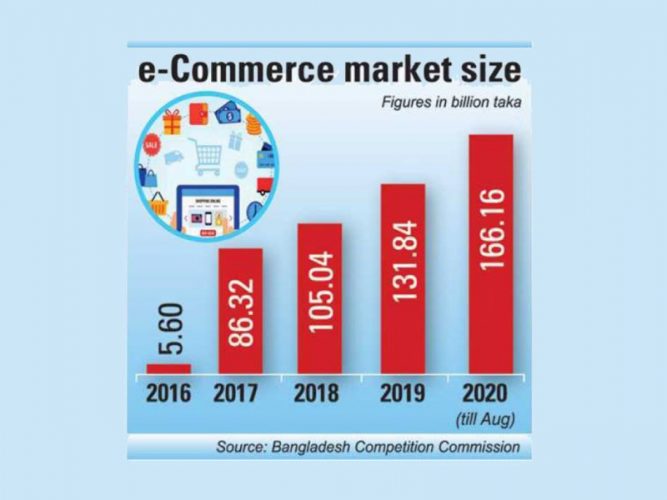 In recent months e-Commerce has become a centre of attention across the nation. The reason behind is, a few e-commerce platforms has become source of dissonance for buyers and suppliers. The magnitude of scam is high and the potential loss of buyers and suppliers is staggering.
In business, one can offer any amount of discount on purchase, unless there is any legal bar. In this case, there was no legal bar. In business, you can sell your goods taking advance payment, payment of delivery or on credit. There is nothing wrong unless there are legal boundaries. Then what went wrong?
A few Bangladeshi e-commerce platform owners were very innovative. Banking on the 'greed' of customers and their lack understanding how business works, the fraudster businesses converted them into investors or wholesalers. The customers did not think, how one can buy something at a higher price and sell at a lower price and sustain their business, unless the business is a cover-up for some unscrupulous trade. The success of any Ponzi scheme depends on how one can fool the gut feelings of a group of consumers, who would continue to believe the business until it is too late. The question is, was it only 'greed' or lack of education of the customers, or lack of fraud-checkers? I think both.
Now, the legitimate question is who is going to pay back to the suppliers, many of them sprung in the heat of sales campaign, mobilizing financial resources from multiple sources and pouring into the scam. Who is going to pay the 'so-called' customers cum investors cum wholesalers? No one else, other than the business itself. And they do not have ability to do that, as money is either siphoned or wasted. It is possible that the siphoned money is brought back and used for reimbursing the customers and suppliers, and probably partially. Several extra ordinary measures have been taken, although not clear whether to save the perpetrators or the customers/investors/suppliers. Some of them are in violation of existing legal framework. One can just observe and see what happens next. However, the history says, it will not go in favor of customers/investors/suppliers, as we have observed with Destiny, Jubok and others.
This article would like to focus on the mainstream e-commerce sector and how to protect the stakeholders from any wrongdoing, domestically and from international fraudsters, as well as promote the sector.
A vibrant e-commerce sector is about thousands of small suppliers and producers, newly grown supply chain and logistics players, creating jobs for millions and of course the consumers, who can access to array of products and services, which was not possible before, and sitting at home. How to create an ecosystem, which will foster growth of genuine players and abate the wrong-doers? A few concrete steps are presented here, based on the discussions at e-Commerce Policy Talk, held on October 15, 2021 organized by e-CAB.
A. TRADE LICENSE:
Address: For having a trade license, one has to have a commercial address, which is almost impossible for a new business, even for a grown-up business due to the high rental in commercial zones. Businesses sometime pay a fee for using a commercial address, which is not always affordable to the new e-commerce business. Some businesses can get trade license using residential address, for example, courier services, salons, grocery stores. As there is no walk-in customers for e-commerce business, it can be included in this category, where residential address will be enough for getting a trade license.
License Fee: Trade License cost needs to be lowered.
License renewal: The renewal process can be simplified through launching an online portal for issuance and renewal of trade license.
B. PAYMENT
Cost of transaction: The fees for digital transaction has not been reduced much since its inception. For a legitimate platform or supplier, paying transaction fee, courier charge, storage cost and other new intermediaries' fee, It is difficult to make ends. The current payment charge is 1.5% – 2.5%, which is very high, compared to other countries. In India, it is maximum 1%, for mobile banking it id maximum Rs 9 per transaction. The Central Bank must intervene and reduce the fee to 0.5%. Such reduction would facilitate transfer of the businesses and consumers from 'cash of delivery mode' to 'digital payment mode'.
Delay in refund: Banks and Payments systems are slow in refunding customers even after ecommerce platform's issuance of refund. Bangladesh Bank may impose time limit of 24 hours for refund and provision of penalty, in case of delay beyond that period.
Escrow: At the moment of 'fraud hype', escrow system was launched. However, the system's inefficiency created suffocation for suppliers as payment is tuck with payment gateways. The alternative to 'escrow' system needs to be identified.
C. FRAUD PREVENTION
Taskforce: A fraud prevention task force may be formed under the auspices of the Ministry of Commerce, with participation of all relevant bodies: Bangladesh Bank, Department of consumers' right protection, Postal department, Cybercrime Unit and so on.
Early Warning System: A system of early warning signal to be developed by aggregating all transaction data generated by relevant players in the whole value chain of an e-commerce transaction: starting from the order placement to delivery of products and payment settlement.
It is revealed from the discussions at the e-Commerce Policy Talk, that dysfunctional institutions also caused in getting the fraudulence bigger. The sponsorship scheme of the fraudster companies was pervasive and all institutions, who are supposed to prevent fraudulence were beneficiaries of the fraudsters. The lack of accountability and impunity and lack of ethical code of conducts are the reasons behind such happenings. How to address the paralysis of institutions or their bodies, this is a million-dollar question.