Low interest in skills training is an alarm bell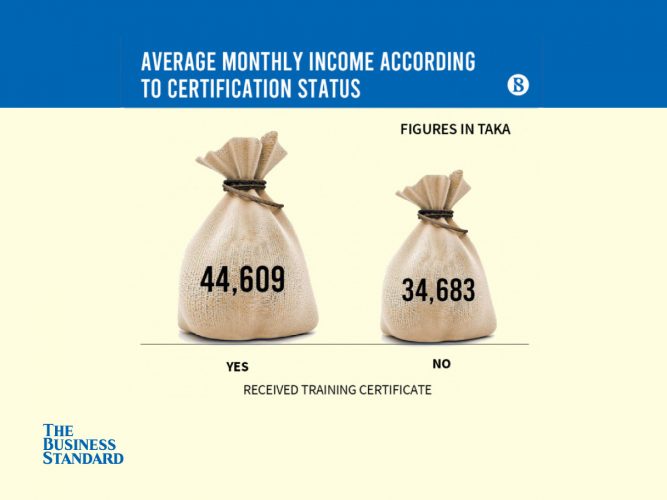 Higher skill means better job and better pay abroad. But very few overseas jobseekers opt for having a skill training although they spend months, even years, before they finally arrive in a destination abroad.
Why?
Low education level is the main reason for low interest in getting any skill training, reveals a study of iSocial, a research organisation.
Even if some of them get a training course, they care little about obtaining the certificate, which the study links to a lack of awareness of the importance of skill certifications in job markets abroad.
Of the returnee migrants surveyed, only 23% received training before departure, with women being more inclined to getting training, says the study "Returnee Migrants Profile and Needs Assessment".
The difference between earnings of someone with and another without skill training is quite evident in figures – a gap of at least Tk10,000 a month.
Interestingly, migrants are also not less aware of the fact that skills matter in foreign countries.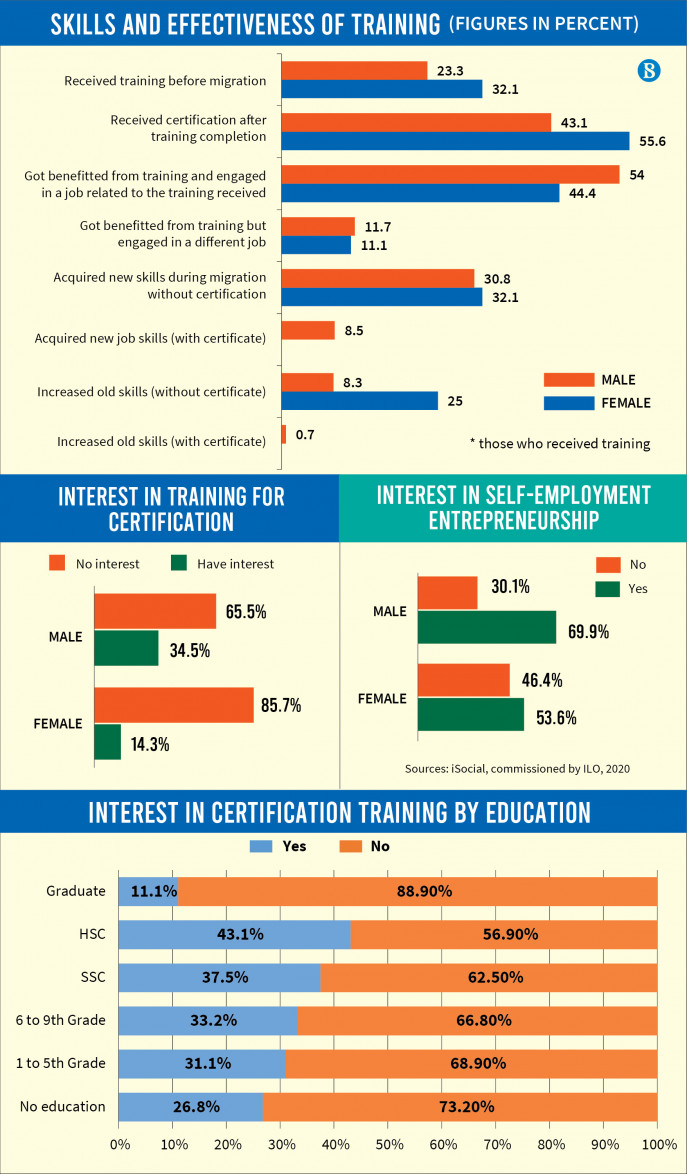 Of those surveyed, 54% men and 44.40% women, who received training, think that they have been benefited by their training and have been involved in jobs related to the training.
Almost one-third of men and women acknowledged that they have learned new skills from such training or enhanced existing ones – although they did not receive any certification.
A youth from Gajaria upazila of Munshiganj knew well the value of both skill training and the certificate before he flew to Singapore six years back.
Just after higher secondary examination, he attended a training course in Savar, Dhaka and received certification as an electrician.
"It helped me start my work in Singapore. But it was not enough – I had to learn more as a helper to get a job in a bigger company there," he said when reached by phone.
The youth, who requested not to reveal his name, did not stop there. He joined an interior decorator company and learned ceiling and partition works. Before coming home earlier this year, he completed his driving course and obtained a licence in Singapore.
"Driving jobs are in high demand in Singapore. I attended driving classes on my day-off every Sunday for six months," he said. The youth, in his 20s, is in touch with potential employers in Singapore and waiting for the flights to resume.
The iSocial study links interest in skill training to the level of formal education.
"The relative interest for training increases along with the education attainment," it says as it finds migrants with relatively higher education more inclined to further skills upgradation for better placement at home or abroad.
The low interest in skills training is an alarm bell, the study identifies, calling for demand creation as well as the need for addressing supply side issues relating to skills development.
It suggests skill certification be made mandatory before departure of jobseekers.
Majority of the returnee migrants want to go abroad again, and more than 68% of them prefer entrepreneurship to a job. Of those who want to stay back home, nearly 80% like to do some business.
As migrants' interest in businesses is growing, iSocial feels that post-Covid-19 strategy should focus on both reintegration and re-migration, with adequate entrepreneurial training and easier access to finance for returnees who choose to do business.