Launching of Fairwork Bangladesh Report 2021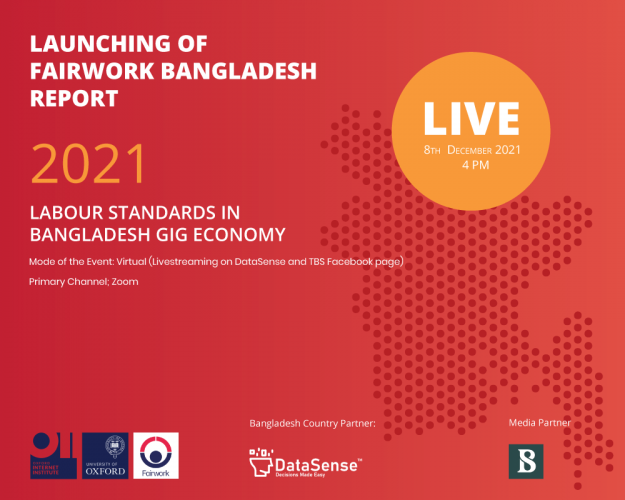 DataSense is going to launch the Fairwork Bangladesh Report 2021 supported by the Oxford Internet Institute, University of Oxford.
The Fairwork Bangladesh Report Launching Event 2021 will be held virtually on Wednesday, December 8, 2021, from 4:00 PM to 6:00 PM (BST).
The event will share the findings of this first of its kind in Bangladesh study, situating the Bangladeshi platform economy and its relative position vis-à-vis the global platform economy, employment, labour conditions, rights, and policies.
Also to be presented is the first phase of the Fairwork Bangladesh Ratings 2021: Labor Standards in the Platform Economy.
The panel discussion will include corporate representatives of the platform economy, senior researchers and experts, labour and legal experts, and the Ministry of Labour and the ICT Division of Bangladesh, who will be providing critical insights regarding the challenges and policy agenda for the platform economy and the conditions of gig workers.