DataSense Organized a Webinar on the Platform Economy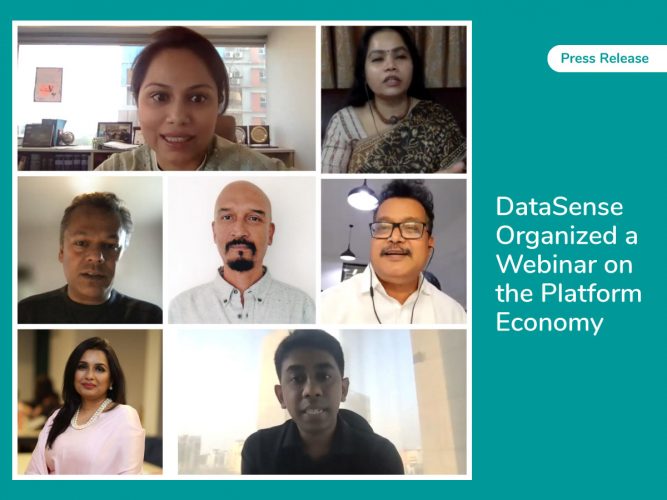 DataSense organized a webinar titled "Emergence and Key Aspects of the Platform Economy in Bangladesh" with the support of the Oxford Internet Institute and The Business Standard on Tuesday. The platform economy, in order words, the gig economy, refers to ride-sharing, online freelancing, food delivery, etc. among other independent gig-based work and has been growing fast in Bangladesh. Already, Foodpanda, Shohoz, Pathao, Uber, HungryNaki, Truck Lagbe, etc. have touched millions of lives.
The gig economy, especially the workers, operate within an informal setting. In Bangladesh, as high as 85% of employment (92% for female and 82% for male) are informal by nature. 6 million or 3% of the population are freelancing. Bangladesh is the 2nd largest supplier of online labour (16%) (OII, 2017). However, online labour supply from Bangladesh increased in recent years, especially in creative and multimedia, but declined in sales and marketing support (ILO, 2021).
Experts in the webinar emphasized that training people and regulatory simplification are necessary for platform-based businesses, while enhanced monitoring and protecting consumer privacy are essential for earning customer trust. The platform economy should be given time to build capacity since it is too early for the sector to come under extensive regulation.
Dr. Sayema Haque Bidisha, Professor of Economics at the University of Dhaka, was the keynote speaker. Apart from presenting the sector's prospects, Dr. Bidisha highlighted some key challenges facing the businesses, such as lack of information, proper monitoring and regulation, and consumer data privacy. As a way forward, she suggested forming an inclusive multi-stakeholder platform for direct stakeholders of all platform economies.
Two pioneers of the Bangladeshi gig economy, Shohoz Founder and Managing Director Maliha Quadir and Pathao's Co-founder and CEO Hussain M Elius, said regulation for the platform economy has to be phase-wise. They added that before imposing any regulation upon the sector, the government should facilitate sectoral development, or else imposition of regulation would be counter-productive. The platform economy needs an identity verification system, and the government is in the best position to prevent fraud in the gig economy.
The panelists highlighted that being good in the English language is an essential skill in platform-based business, which is an obstacle for the gig economy at present. Hence, adequate training is required for English.
Dr. Murali Shanmugavelan, Research Lead at DataSense, spoke about the need for platform economy stakeholders to share data in order to facilitate and sustain growth through appropriate and timely policy changes or business pivots.
Panelists of the webinar shed light on the emergence and key aspects of Bangladesh's platform economy and its relative position vis-à-vis the global platform economy, employment, complexity of taxation and investment.
In his concluding remark, The Business Standard Editor, Mr. Inam Ahmed said the media can play the role of a watchdog to develop the gig economy. He added that traditional law is not capable of regulating the gig economy.
Barrister Anita Ghazi, chair-person of iSocial and Founder and Managing Partner at The Legal Circle, presided over the programme. Dr. Ananya Raihan, Founder and CEO of iSocial (DataSense), moderated the session.
DataSense is the research consultancy and business intelligence unit at iSocial that provides various modes of research and management consultation to B2B customers, including government agencies, business enterprises, and international development partners.